Call of Duty: Infinite Warfare (2016)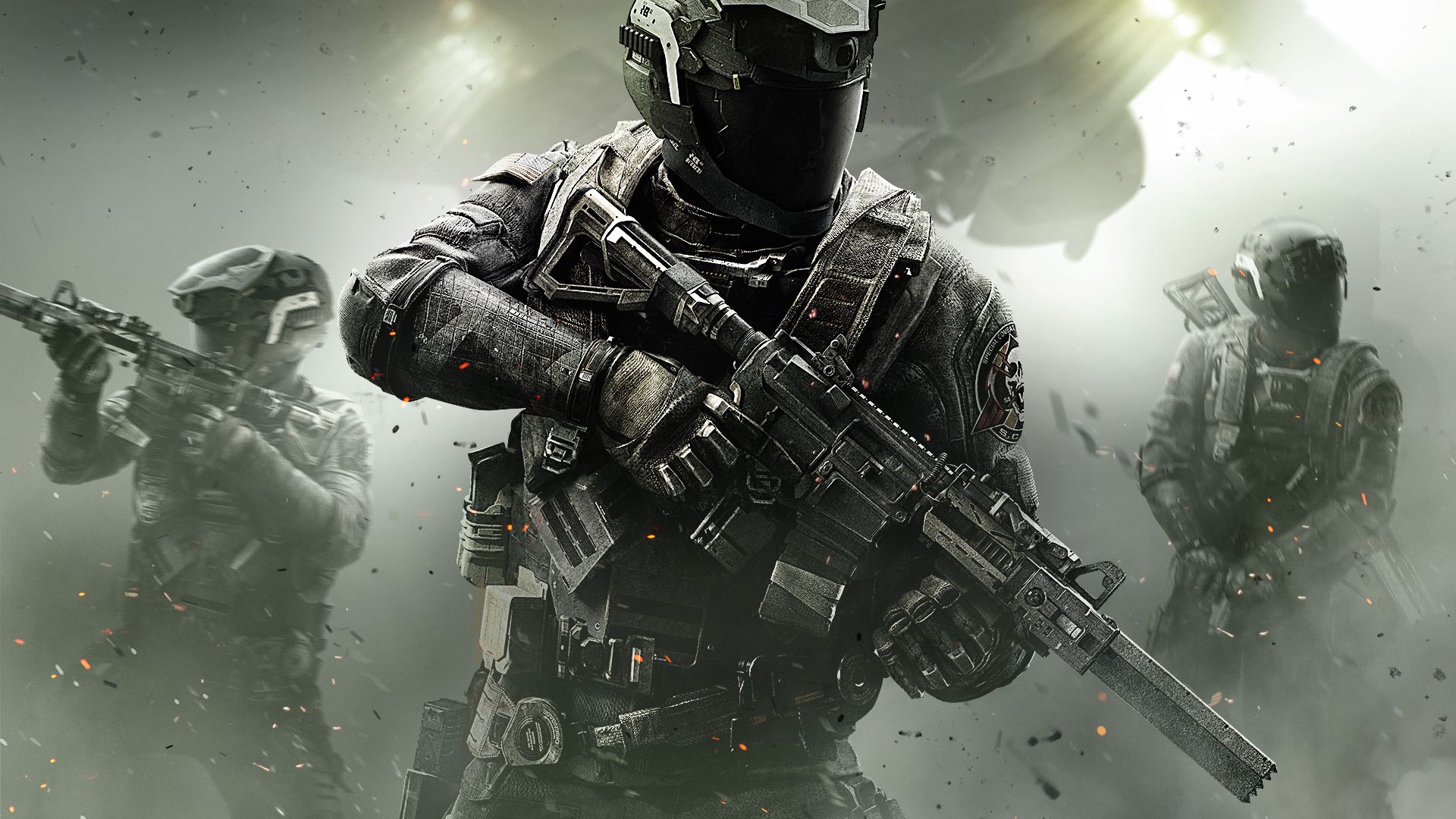 A surprising leap forward…
While Infinite Warfare represents a big departure from the norms of Call of Duty, it tells a surprisingly engrossing story anchored by tight controls and massive set-pieces.
Developed by Infinity Ward

Published by Activision

Released on Xbox One (played), PlayStation 4, PC
When it comes to the wide breadth of triple-A video game franchises, Activision's powerhouse Call of Duty series has been one of the absolute kings of the entire, collective business that revolves around video games, in addition to largely being the standard-bearer for many gamers who partake of the first-person shooter (FPS) genre.
Particularly since the dawn of the current generation of consoles, the franchise has been going through something of an evolution – welcome by some, shunned by others – that has seen Call of Duty transition from hard-hitting representations of military conflicts both past and present, and into something that's now much more of a science fiction-based animal: whether it involves humans augmented by robotics, post-apocalyptic wastelands, or its latest offering which seemingly goes "all in" on sci-fi by featuring energy weapons and actual battles taking place against the backdrop of the dark expanse of space.
This is Call of Duty: Infinite Warfare, 2016's entry in the long-running annual franchise, developed by series founders Infinity Ward. When the game and its concept were revealed earlier this year, it was met with immediate skepticism by a large preponderance of the gaming press, as well as gamers themselves. While the concept and overall setting definitely makes for the most unusual Call of Duty game ever released, it also accounts for some welcome forward leaps in regards to its storytelling. Now, if only the multiplayer could say the same thing.
Presentation and Design
It should likely come as little surprise that Call of Duty: Infinite Warfare is absolutely gorgeous to look at. As the first game in the series to completely ditch any kind of release on last-gen hardware, Infinity Ward takes full advantage of the greater visual horsepower afforded by the Xbox One and PlayStation 4, and the game's sweeping environments and realistic character models are all the better for it.
Because Infinite Warfare contains, arguably, the most unique environments in the series, the lighting effects concerning lens flare, sunlight, and the backdrop of space are just as balanced as you'd expect from something like a modern Star Wars movie. By contrast, for the scenes taking place on Earth and a few other planetary locales within our solar system, they do give a notable air of grittiness (as weird as it is for me to think or type that) when directly compared with the space-faring levels.
Production and character designs also clearly take inspiration from more grounded, militaristic science fiction instead of the brighter, more fantastical flavor. The immediate sci-fi franchise that comes to mind for aesthetic comparison is the 2004 relaunch of Battlestar Galactica, as well as being reminiscent of the universe of the Alien films, and even flashes of the military design from both Paul Verhoeven's adaptation of Starship Troopers, as well as Nicholas Meyer's Star Trek VI: The Undiscovered Country.
While it doesn't seem that you could plausibly call this entry in the Call of Duty series a "boots on the ground" game, it does feel somewhat hard-hitting in relation to the weapons, uniforms, and military infrastructure. Still, sweeping, space-faring environments and production design aside, the meat of any video game experience comes from how it feels when you pick up a controller, get into the trenches, and watch the story play out.
Story and Setting
Although there's not a specific year attached to the setting of Infinite Warfare, it's likely safe to assume that it takes place in the relatively far-flung future. Humanity is capable of faster-than-light space travel, and has largely colonized the majority of our indigenous solar system. A combination of population growth and immense industrial expansion has caused the Earth's natural resources to be nearly depleted, making our reach to the stars more necessary. To do that, the nations of the world unite to form the United Nations Space Alliance (UNSA), an organization that oversees all matters relating to the human colonization of space.
Because the precious resources of the colonized worlds are also wanted by more radical and militant interests, the UNSA creates the Solar Associated Treaty Organization (SATO) to defend their resources on behalf of the UNSA. Sometime in the past, these more militant forces waged a war of secession against the UNSA and SATO, forming the Settlement Defense Front (SDF). Teetering on the brink of war for years, the SDF declares war on the UNSA and SATO by launching a surprise attack on their stronghold in Geneva, severely hampering their forces and causing the remaining ships in the SATO fleet to desperately scatter into space in order to mount a series of counter-attacks.
The player character is Nick Reyes (played by actor Brian Bloom), a special operations pilot who is quickly tasked early in the story with accepting a higher level of responsibility than he was prepared for in the fight with the SDF. His primary adversary is Rear Admiral Salen Kotch (played by Game of Thrones' Kit Harington), whose megalomania and obsession with complete and total military domination compels him to lead an aggressive campaign against the UNSA as soon as he realizes that he may have his enemies on the ropes.
Immediately apparent when playing the story is how personal it feels when compared with other recent entries in the series. Infinity Ward's last effort in 2013's Call of Duty: Ghosts was a largely generic, impersonal slugfest. 2014's Advanced Warfare from Sledgehammer Games stepped in the right direction by telling a more compelling personal story of a man's literal rebuilding and the cost of corporatocracy on the world stage. Last year's Black Ops III from Treyarch, though, seemed to lack the punch and narrative scope of the two Black Ops games that preceded it. What all of these efforts have in common with Infinite Warfare, though, is their decision to invoke a futurist's view of…well, warfare.
Infinite Warfare gets far more unique from there, though. This game seems to be taking place in even further reaches of time than the last few games, but the more notable difference is that it actually makes notable and helpful efforts in telling a meaningful, connective story by giving the characters faces and unique attributes that you'll actually remember. In Ghosts, I couldn't really tell one of the titular "Ghosts" from the others. In Advanced Warfare, it was easy to become blinded by Kevin Spacey's performance as Jonathan Irons than it was to be enthralled with the story's heroes. In Black Ops III, the members of the Mason family were all gone, and in their place were guys that were difficult to grow invested in.
In deep – and perhaps surprisingly deep – contrast, Infinite Warfare puts far more emphasis on giving supporting characters memorable faces, traits, and stakes. In addition to growing invested in the player character and the costs of command in war, you may also find yourself caring for the people (and robots) that run into the jaws of death alongside you. Much of this may stem from Activision's hiring of Taylor Kurosaki as the game's creative director, an interactive storyteller who cut his teeth on the very narratively satisfying Uncharted games developed by Naughty Dog.
While not quite reaching the emotional highs of the original Uncharted trilogy, Infinite Warfare actually represents the most compelling single player story that the Call of Duty series has produced on this console generation, and actually may count among one of the best campaigns of the series at-large.
Single Player Gameplay
Thankfully, in addition to telling a compelling story, Infinite Warfare's gameplay during the campaign is also a positive step forward for the game overall. While the ground-based combat is relatively typical when compared with the vast majority of the series' previous twelve installments, these instances only tell a fraction of the overall story. Additionally, the game features nicely tight and kinetic combat sequences in zero-gravity environments, in addition to a simplistic but satisfying selection of instances placing you in the cockpit of a space fighter to take out both enemy fighters and larger enemy destroyers. Though those sections aren't exactly the centerpiece of the experience, they were a pretty notable highlight for this sci-fi fan, as I've always been enthralled with jumping into the cockpit of an X-Wing in a Star Wars game or an Arwing in a Star Fox game.
The most varied experience actually may come from the zero-g instances, where enemies are generally easier to neutralize (puncturing a pressure suit in a vacuum tends to have that effect) and you can employ some quick gadgets to have a greater level of offense. For instance, your palm-equipped grappling hook allows you to traverse a fair amount of distance to get to cover, or you can use it on an enemy to pull them toward you and remove their helmet by force.
Ground-based combat also brings some new ordnance into the mix, like anti-gravity grenades that slowly lift enemies into the air allowing for a quick-shot kill. Similar to the last few entries, locomotion retains its influence from Titanfall with wall-running and double-jumping returning once again.
Overall, the single player campaign is the best that the series has had in several years. Be that as it may, the primary reason that most people will take the plunge into a Call of Duty game is because of its status as a powerhouse in the realm of competitive online multiplayer. In this regard, Infinite Warfare fails to overcome the more generic qualities of the series at-large.
Multiplayer Gameplay
While it doesn't seem necessarily fair to describe Infinite Warfare's multiplayer mode as "bad," the best word for it may be "derivative." Although coming from a different developer when compared to last year's game, Infinite Warfare feels surprisingly similar to the multiplayer component of Black Ops III. From the class-based alterations to the locomotion, the overall layout of the maps, and the continued balance issues surrounding certain weapons, multiplayer in Infinite Warfare is by far the least interesting addition to the package overall.
Thankfully, this year's cooperative Zombies mode brings some more unique fun to the table. Although Zombies originated in Call of Duty with Treyarch in 2008's World at War, other developers on the franchise have tried to further evolve the concept with more limited success. When Sledgehammer Games took a shot at Zombies in DLC modes for Advanced Warfare, for instance, it simply felt like a less imaginative version of what we'd seen from Treyarch.
Infinite Warfare's "Zombies in Spaceland" map takes the core concept and puts it into a fun, sometimes funny, and always exciting atmosphere inspired by horror films of the 1980's, easily accounting for the first worthy non-Treyarch Zombies mode in the franchise.
Overall
Call of Duty: Infinite Warfare is a game that was pretty easy to write off. On concept it looked like a massive departure from what the series represented at its best, and the setting is very unusual even when compared with other recent entries in the series.
While the multiplayer unfortunately falls into the same derivative framework that other games in the series seem to have also fallen into, the plot and most especially the characters that you meet during the game's single player campaign make for a rewarding experience, and a nicely varied take on the way you can tackle campaign missions on the ground, in space, and in your fighter all help to make Infinite Warfare a surprisingly solid entry in the series this year.
Score: 8/10
This review originally appeared on GeeksAndGamers.com.