Red Dead Redemption (2010)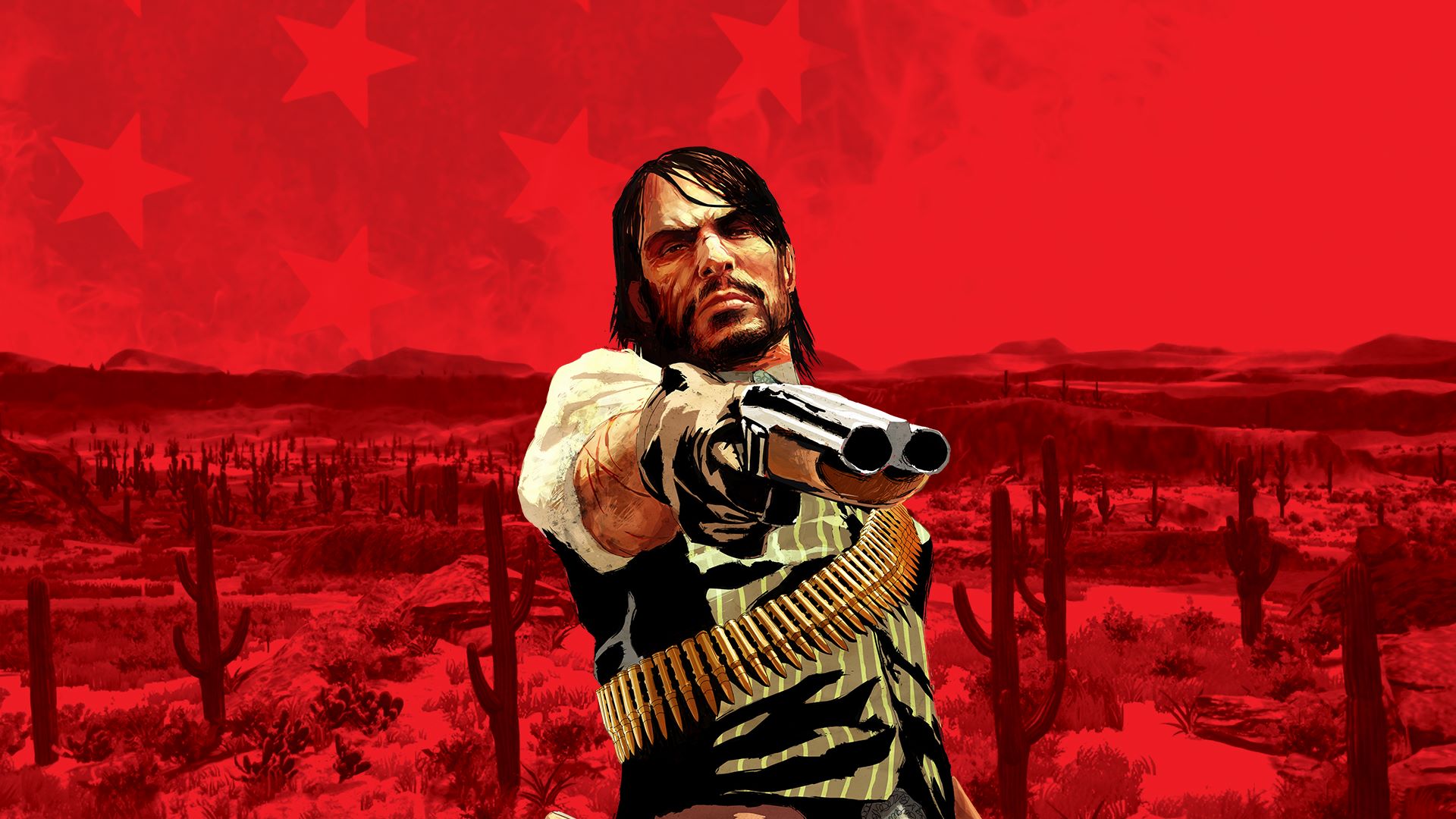 One of gaming's all-time greats in a somber, epic Western…
Rockstar Games' temporary break from the Grand Theft Auto series results in a beautiful and vibrant open-world game, telling the story of a compelling and complicated man in the twilight of the Wild West.
Developed by Rockstar San Diego

Published by Rockstar Games

Released on Xbox 360 (played), PlayStation 3
Although new exploitations in the Western genre seem to be few and far between these days, anytime a serious, concerted, and well-orchestrated new effort comes along with cowboys and horses, it manages to attract a wide swath of attention. The architects behind the massively popular and controversial Grand Theft Auto series turning their attention to a depiction of the "Wild West" immediately drew peoples' attention, likely almost breaking necks considering the speed with which a lot of people seemed to turn their heads.
While a lot of the biggest attention on Rockstar Games focuses on the more controversial aspects of their Grand Theft Auto games, what's often overlooked by the wider public is the developer's reputation for impeccable design and craftsmanship in their published titles. Naturally, when they turn their attention to the creation of a new title, that already piques a lot of interest. A Rockstar-published Western, though? That sounds special.
Red Dead Redemption is the culmination of a lot of expectation, but a swerve away from the tone of the GTA series coupled with a drop-dead gorgeous depiction of a world transitioning into the more modern era of the early 20th century has turned in not just a great video game, but a potentially transformative one, evoking the classic tenets of the genre just as much as classic filmmakers like John Ford or Sam Peckinpah.
In short, Red Dead Redemption is one of the best video games ever created.
Design
The centerpiece of the whole experience on offer in Red Dead Redemption is its world. Because of where the game takes place in history, it portrays an extremely interesting transitionary period that the United States was experiencing in the early, pre-World War I years of the 20th century. By outward appearance, some parts of what you'll see across the game's world may appear anachronistic: the immediate example that comes to mind is an image relatively early on in the story in the town of Armadillo, a prototypical Western shanty town that actually seems to have telephone lines suspended above some of the buildings.
That's only one example of the attention-to-detail on display in the game, saying nothing about the wide, open vistas across multiple environments ranging from the deserts of northern Mexico, to snow-capped mountains covered by lush forests, down through subterranean mines. The landscapes as you ride your horse around the game's full map are often breathtaking, with the sun peeking through distant, splintered rock formations and the authentic period-era structures making up a world that you can become highly engrossed in.
Extending from the greatness of the aesthetic design is the attitude towards sound, with the weapons, animals, and characters evoking exactly what you'd expect from a definitive Western tale. Adding to that is the impeccable music soundtrack, with an excellent original score and some wonderful selections from other artists rounding out the epic feel that the game seeks to push forward in the experience.
Characters have a very gritty look as well, with five o'clock shadows and deep scars peppering a lot of faces with ornate mustaches topped with classic hats. The whole design of Red Dead Redemption feels exceedingly authentic, while also giving you the idea that this world of frontier outlaws is just about at its end.
It's a fitting backdrop for the story of a compelling character sitting at the heart of everything.
Story
Red Dead Redemption may extend from the world first established by the Xbox and PS2 original Red Dead Revolver, but outside of the general setting and the return of refined shooting mechanics, the "redemption" part of the title is the most important. Beginning in the twilight of the Wild West in the year 1911, the game follows the story of John Marston, a former outlaw who ran with a notorious gang in his younger days that was responsible for a lot of crimes, including multiple counts of grand theft and murder. John left the gang life behind after his former compatriots – including characters like Bill Williamson, Javier Escuela, and leader Dutch van der Linde – left him to die several years earlier. Ever since, John and his wife and son have been trying to "go straight," wanting to leave the outlaw life behind so they could live in peace doing honest work, and for a while it seemed like that goal was in reach and perhaps even achieved.
Then, prior to the beginning of the game, John's former life abruptly caught up with him in the form of Edgar Ross, a US federal agent with the bureau that would one day evolve into the FBI. Having taken John's wife and son into federal custody, Ross extorts Marston to take up his revolver once again in order to capture or kill the final living members of the van der Linde gang. When the game begins, John arrives in the city of Blackwater via train, and is let loose with limited resources to try and bring his former comrades to a brand of justice that John himself doesn't really believe in. An early encounter with Bill Williamson almost results in John's death, but a chance meeting with a good samaritan saves his life, and she becomes the first of many new allies John will need to eliminate his former brothers, reclaim the family life he longs for, and finally redeem himself in the eyes of both the law and his son.
Much of the story seems to be greatly inspired by the classic Sam Peckinpah Western film The Wild Bunch, which takes place in 1913, focuses on a gang of outlaws, and even features a character named Dutch as part of the gang featured in that film. Still, John's road to attempted redemption is entirely his, and over the course of play you'll really start to care about him even as you're the one dictating most of his behavior. Astonishingly, Red Dead Redemption is populated with fully-realized, three dimensional characters with beliefs, motivations, histories, virtues, and foibles, which is an objective achievement considering this world's size. The story that this game tells is one that is equal parts immersive, enthralling, suspenseful, and tragic, with the right amount of humor in all the right places to break things up before plunging you back into the drama of John's journey.
Even side characters you don't spend all that much time with become fully human in your interactions with them, and the general irreverence of the GTA games is replaced by a dedication to telling an emotionally truthful story about a man simply trying to do right by the ones he loves in an impossible situation. The journey you engage in with John – and his ultimate fate – help make the narrative in Red Dead Redemption one of the single best video game stories ever committed to the interactive medium.
This aspect of the game is nearly perfect, and that's before taking all of its gameplay elements into consideration.
Gameplay
Extending from the Grand Theft Auto series, Red Dead Redemption's open-world is a sandbox that, once it opens up, allows you to tackle its story and side missions in pretty much any order you see fit. Obvious differences from GTA rest in its primary theme, locomotion around the world, and many of the tasks you're charged with accomplishing. Most of the gameplay features revolve around traversing the expansive environments to capture or kill your enemies, and the game can often splinter – sometimes with subtlety, sometimes not so much – based on the choices that you make regarding dishing out the law.
Similarly to GTA, the game also operates off of an honor system that dictates how the authorities respond to you in non-story missions. While in one mission you'll very much be on the side of the sheriff in the town of Armadillo, how you conduct yourself when you're out in the open is entirely up to you. You could choose to kill someone or hogtie them on the train tracks, but if you're spotted by a witness without concealing your identity, then there's a good chance you could bring the law down on yourself if you don't capture or kill that witness.
Breaking the law with word getting back to the authorities will often involve the creation of a regional bounty for your capture, which you can pay off yourself at a post office in order to take the heat off. By that same token, if you choose to conduct yourself honorably, then you'll be rewarded by NPC characters treating you more respectfully, while also earning more money from jobs you choose to perform around the world or bounties you undertake on behalf of a sheriff. Any change in honor, though, can be circumvented if you wear a bandana and conceal your face when performing your tasks.
Side missions have a significant degree of variance between different tasks, from odd jobs you can take on at various properties, to protection and bounty hunting, down through breaking wild horses and delivering letters and documents to people. Everything you can do can be done at your own pace, with your overworld map clearly laying out the difference between story missions that will advance the plot, and side missions you can take on to cultivate experience and affect your rankings.
When the variety and latitude the game offers is combined with both the compelling narrative and the brilliantly realized world, you have a gameplay experience that is second to none, particularly for anyone who's ever daydreamed about jumping on the back of a horse and riding off into the sunset.
The controls aren't the tightest that you'll find, but they're comparable to other Rockstar Games titles and do absolutely nothing to diminish the craftsmanship on display in every single part of this experience. In a word, the gameplay aspect of this game is exquisite.
Overall
Red Dead Redemption is my absolutely favorite Rockstar game thus far, without even a close contest, and definitively one of my all-time favorite video games, bar none. Its attention to detail, the expansiveness and beauty of its open-world, the fully developed characters, the wealth of tasks it gives you, its intrinsic gameplay design, its honor and locomotion systems, and its overall tone all add up to an experience that is virtually unparalleled. This is true on two fronts that a single game rarely accomplishes: both what it attempts to do, and at what it succeeds in doing.
It represents a new high watermark for Rockstar and for action games in general, but even describing it as such feels way too reductive considering the kind of experience that awaits you as you prepare to saddle up as former gang member John Marston. The game offers you a path to John's redemption, but how you get there is entirely up to you, and there's no shortage of ways to explore everything that this vibrant, lively and violent world has to offer in its entirety.
Because of all these things, the minor nitpicks that could be thrown at it pale in comparison to the sheer achievement that Red Dead Redemption stands as in its final form. This is the kind of game that shows you the artful potential of putting you in a complicated man's boots, and letting you steer his bumpy, winding journey back home to a life of peace.
Ultimately, with "your hands upon a dead man's gun," that journey is everything you make it.
Score: 9.5/10